What a week so far! First, it was Nature Expedition at Walden Pond where we saw a snaaaaaaake!

and discussed Thoreau's philosophy (Bassie says that "man has become the tool of his tools" means that "the tools are tricking the people into working for them").
Yesterday it was Beach Day, and it was quite an exciting time for a little Midwestern girls such as myself. I actually saw the tide go from low to high and back again for the first time.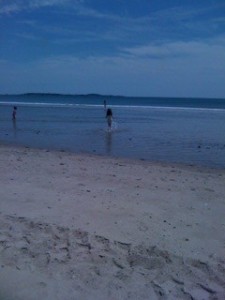 Bassie's comment that it was her first time seeing it, too, was met with me yelling, "Yeah…but I'm 32 and you're 8!" Anyway, seriously, it was one of the coolest and most humbling things I've ever seen. The Earth and the Moon and the vastness of the ocean all moving in some cosmic rhythm…maybe my awe was what distracted me from reapplying sunblock thus leaving me with a raging sunburn.
But a sunburn could not deter Rock-Star Day! Based on a conversation I had with Dina the other week when she was done eating a cucumber while we were walking outside and, in lieu of a garbage can, suggested she might just place it in the nearest mailbox. Hence, "Cucumber in the Mail". Enjoy!